Philosophy in Ancient Egypt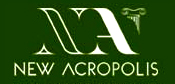 Come and discover a different way of looking at the world, in which living joyfully in the present is combined with an interest in exploring the mysteries of life and death.
Many people think the Egyptians had no philosophy, only religion and magic. However, a deep study of their culture reveals an underlying philosophy behind everything they did. Their world view was one of unity in multiplicity, in which all things become differentiated in order to travel a path towards reunification and peace.
Register to tell a friend about this lecture.
Comments
If you would like to comment about this lecture, please register here.