LEFT BOOK CLUB PRESENTS: 'Cut Out: Living without Welfare' and 'Island Story' with Jeremy Seabrook a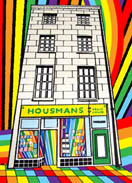 Authors Jeremy Seabrook and J.D. Taylor discuss their new books which both similarly, through a series of interviews of everyday people, examine life, politics and the impact of austerity in modern Britain.circumstances that colluded to make way for Corbyn's rise within Labour and British politics.
Housmans are proud to welcome Jeremy Seabrook and J.D. Taylor for a discussion on politics and life in Britain and the impact of austerity.
Britain's welfare state, one of the greatest achievements of our post-war reconstruction, was regarded as the cornerstone of modern society. Today, that cornerstone is wilfully being dismantled by a succession of governments, with horrifying consequences. The establishment paints pictures of so-called 'benefit scroungers'; the disabled, the sickly and the old.
In Cut Out: Living Without Welfare (Left Book Blub/Pluto Press), Jeremy Seabrook speaks to people whose support from the state – for whatever reason – is now being withdrawn, rendering their lives unsustainable. In turns disturbing, eye-opening, and ultimately humanistic, these accounts reveal the reality behind the headlines, and the true nature of British politics today.
J.D. Taylor, on the other hand, cycled all round Britain, interviewing and staying with strangers from all walks of life. Without a map and travelling with the most basic of gear, the journey revels in serendipity and schadenfreude.
Taylor's book, Island Story (Repeater), weaves histories, experiences and ideas to tell another kind of story: one of rebellion and retail parks, migration and inertia, pessimism and disappearing ways of life, and a fiery, unrealised desire for collective belonging and power.
Reviews for Island Story
"In the spirit of Cobbett this is a beautifully written account of a journey around contemporary Britain which is both political and poetic - a rare combination." -Anna Minton, author of Ground Control
"If you want to know what Starkey, Fox, Bryson and Paxman miss, because they travel different roads, this book is for you." - Danny Dorling
Review for Jeremy Seabrook
"For half a century, in one delicately textured study after another, Seabrook has established himself as perhaps Britain's finest anatomist of class, deindustrialisation, migration and the spiritual consequences of neoliberalism." - Sukhdev Sandhu, The Guardian

About the Authors
Jeremy Seabrook is a journalist and writer who has written for the New Statesman, Guardian, Time, and Independent. He writes plays for stage and TV and is the author of many books, including Pauperland: Poverty and the Poor in Britain and The Song of the Shirt: The High Price of Cheap Garments, from Blackburn to Bangladesh.
J.D. Taylor is a researcher and charity worker from South London.
Register to tell a friend about this lecture.
Comments
If you would like to comment about this lecture, please register here.