SATURDAYS IN THE VAULTS POETRY EVENT AND BOOK LAUNCH 'Looking for Trouble' by Roque Dalton, and pr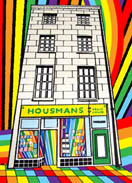 Smokestack Books present at Housmans Looking for Trouble, the first British edition of poetry by Latin America's much loved poet and revolutionary fighter, Roque Dalton.

Housmans is proud to welcome John Green and Michal Boncza, editors and translators of Looking for Trouble, a collection of poetry by the cult Latin American poet Roque Dalton.
An extraordinary poet of rebellion and humour, fierce militancy and painful tenderness, his work is still read alongside other guerrilla poets like Otto René Castillo, Javier Heraud, Ernesto Cardenal and Daisy Zamora.
Although his poetry has been widely published in Cuba, Russia, France, Germany, Italy, Czechoslovakia and the US, Looking for Trouble is the first time his work has been published in the UK.
About the Poet
Roque Dalton (1935–1975) is one of the best-known and best-loved poets of twentieth-century Latin America. A founder-member of the Committed Generation of Poets and a member of the Salvadorean Communist Party, Dalton was imprisoned in 1959 and sentenced to death for organising students and peasants against the local landowners. On the day of his execution his life was saved when the military dictatorship was overthrown in a coup. Dalton escaped death a second time in 1965 when the prison was hit by an earthquake.
He spent several years in exile in Mexico, Cuba and Czechoslovakia, publishing poetry, essays, fiction and biography and winning the 1969 Casa de las Américas poetry prize. In 1975 Dalton returned to El Salvador and joined the underground Ejército Revolucionario del Pueblo (the Revolutionary Army of the People). Accused by the ERP of being a CIA spy, Dalton was murdered four days before his fortieth birthday.
About the Translators and Editors
John Green was a documentary film maker for twenty years, covering social and political issues throughout the world for GDR television. His books include Engels: A Revolutionary Life, Ken Sprague: People's Artist, Red Reporter and (with Bruni de la Motte) Stasi Hell or Workers' Paradise: Socialism in the German Democratic Republic. Many of his translations included in His Hands Were Gentle: Selected Lyrics of Victor Jara (also published by Smokestack).
Michal Boncza was born in the UK, spent his childhood in Argentina and his youth in Poland where he studied architecture. He is a journalist, graphic designer and translator, specialising in translations from the Spanish. He currently works at the Morning Star newspaper. Together they edited and translated The Arrival of the Orchestra by the Venezuelan poet Gustavo Pereira (also published by Smokestack).
This event is part of a new series of fiction and poetry readings at Housmans called SATURDAYS IN THE VAULTS.
Register to tell a friend about this lecture.
Comments
If you would like to comment about this lecture, please register here.