LONDON'S BURNING SEASON: 'Class in 21st Century London' with Lisa McKenzie and Mike Savage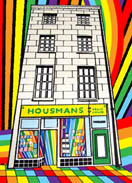 Sociologists Lisa McKenzie and Mike Savage will be at Housmans to discuss the changing role of class structure in 21st century London.
Housmans are delighted to welcome Lisa McKenzie and Mike Savage to discuss class structure in London in the 21st century. Lisa is part of the Great British Class Survey Team at the London School of Economics, headed by Professor Mike Savage, which recently published their findings in the book Social Class in the 21st Century (Penguin).
This book presents the ideas and facts behind a new conceptualization of class: a new British class system composed of seven classes that reflect the unequal distribution of three kinds of capital: economic (inequalities in income and wealth); social (the different kinds of people we know) and cultural (the ways in which our leisure and cultural preferences are exclusive).
The book looks beyond labels to explore how and why our society is changing and what this means for the people who find themselves in the margins as well as in the centre. Our guests will be focussing on the ever-increasing contrast between elites and the precariat in the British capital.
This event is part of Housmans London's Burning season.
Reviews
"Savage's commitment to bringing out the nuances of class relationships, and the experiences of individuals in the class structure, makes this book invaluable." Lynsey Hanley – The Guardian
"What the book highlights clearly is the dominance of London, of London's universities and Oxbridge, and the growing importance of housing wealth." Danny Dorling -THES
About the Author
Lisa McKenzie is a sociologist and research fellow with the Great British Class Survey Team at the London School of Economics. The author of Getting By: Estates, Class and Culture in Austerity Britain, she is also a political and social activist engaged with many local community protests and campaigns.
Mike Savage is Professor of Sociology at the London School of Economics.
Register to tell a friend about this lecture.
Comments
If you would like to comment about this lecture, please register here.