LONDON'S BURNING SEASON: 'A People's History of the Woodcraft Folk' with Phineas Harper and Annebell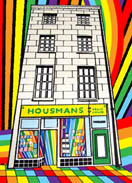 Phineas Harper and Annebella Pollen discuss the history of the Woodcraft Folk, an egalitarian co-operative children and young people's movement which originated in a back garden in south London!
Housmans is pleased to welcome Phineas Harper and Annebella Pollent for the launch of "A People's History of Woodcraft Folk", a review of the first nine decades of the co-operative children and young people's movement. Through objects and images, this book explores the history, values and evolution of this unique organisation in a chronological sweep of stories from hand-making tents and rescuing children from advancing Nazi troops, to campaigning against climate change.
This event is part of Housmans' 'London's Burning' season.
Reviews
"I think Woodcraft, and its related organisations, does a fantastic job of opening our minds to a better way of running things." -Jeremy Corbyn
About the Participants
Phineas Harper is an architecture critic and designer. He is Deputy Director of the Architecture Foundation and former Deputy Editor of the Architectural Review. He has written on design and society for Uncube, ArchDaily, The Architects' Journal, Made and others. His first book, the Architecture Sketchbook was published by Laurence King and Magma.
Annebella Pollen is Principal Lecturer in the History of Art and Design at the University of Brighton, UK. Her publications include Mass Photography: Collective Histories of Everyday Life (IB Tauris) and Dress History: New Directions in Theory and Practice (Bloomsbury).
Register to tell a friend about this lecture.
Comments
If you would like to comment about this lecture, please register here.