LONDON'S BURNING SEASON: 'Hackney Propaganda: Working Class Club Life and Politics in Hackney 1870 –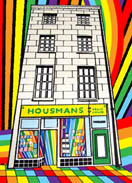 Ken Worpole returns to Housmans to discuss the active working class political environment and club life in Hackney from the 1870s to the end of the century.
The years from 1870 to 1900 were growth years for socialist and trade union politics in Britain, following a period of thirty years of relative demoralisation and repression. The men and women of Hackney struggled to build the organisations and traditions for economic and political liberation from which our own local socialist and trade union movement has developed.
First published in 1980, the pamphlet Hackney Propaganda: Working Class Club Life and Politics in Hackney 1870–1900 is a facsimile reprint which tells precisely the story of the vibrant culture of working class club life and politics. The pamphlet provides details of club affiliations, names and addresses, lecture lists, poetry readings, outings, brass bands, bunfights and demonstrations, which made the borough 'the most heretical…in the metropolis'.
By Barry Burke & Ken Worpole. £5
This event is part of Housman' 'London is Burning' season.
Reviews
"For many years, Ken Worpole has been one of the shrewdest and sharpest observers of the English social landscape."- The Independent
About the Author
Ken Worpole is the author of many books on architecture, landscape and public policy. His principal interests concern the planning and design of new landscapes and public institutions, whether parks, playgrounds, libraries, townscape or urban green networks. Ken is Emeritus Professor, Cities Institute London Metropolitan University, and has served on the UK government's Urban Green Spaces Task Force, on the Expert Panel of the Heritage Lottery Fund, and as an adviser to the Commission for Architecture and the Built Environment.
Register to tell a friend about this lecture.
Comments
If you would like to comment about this lecture, please register here.