In search of Happiness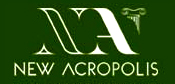 Happiness has naturally been a common theme for philosophers throughout the ages, as it is a constant concern for human beings.
Looking back and exploring what wise people of the past have written about this topic can enlighten on us on possible paths to follow to reach inner and outer fulfilment.
Register to tell a friend about this lecture.
Comments
If you would like to comment about this lecture, please register here.