The Power of Myth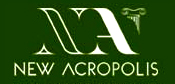 Over thousands of years, myths have helped human beings to understand aspects of life that the rational mind finds difficult to grasp (love, death, mystery…). Great philosophers like Plato have used myths and fables to explain their key concepts.
This 4-week course (4 evenings over a month) will introduce you to the archetypal structure of mythology and its important role in promoting our spiritual and psychological well-being.
Topics:
- Myths, Symbols and Rituals as means of access to the Sacred and as tools for understanding and facing the trials of life.
- The Myth of Cupid and Psyche: A key to understanding the mysteries of love and the soul.
- The Oedipus Myth: Can free will and predestination co-exist? What is the nature of the human being?
- Fairy Tales and Modern Mythology: Archetypal themes and their interpretation in fairy tales, literature and film.
Register to tell a friend about this lecture.
Comments
If you would like to comment about this lecture, please register here.