Mesoamerican Philosophy. Lessons from the Mexican Martial Art of Xilam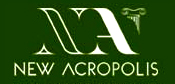 In this talk and demonstration, martial arts researcher George Jennings will highlight key elements of the pre-Hispanic Mesoamerican scientific worldview through the structure and performance of the fighting and human development system of Xilam.
The talk will uncover aspects of personal transformation and transcendence through a consideration of the elements, seven indigenous animals, and the numerical and pre-Colombian calendar systems that all form the basis of the philosophy of Xilam: To "remove the skin" and to discover oneself.
George Jennings, PhD, is a qualitative researcher interested in alternative and comparative philosophies. He is a lecturer in sport sociology/physical culture at Cardiff Metropolitan University.
Register to tell a friend about this lecture.
Comments
If you would like to comment about this lecture, please register here.