'Purple Prose: Bisexuality in Britain' with Kate Harrad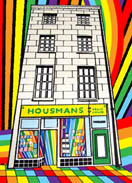 Kate Harrad introduces this unique anthology of writing on the politics and realities of bisexuality in Britain today.
Purple Prose: Bisexuality in Britain is the first of its kind: a book written for and by bisexual people in the UK. This accessible collection of interviews, essays, poems and commentary explores topics such as definitions of bisexuality, intersections of bisexuality with other identities, stereotypes and biphobia, being bisexaul at work, teenage bisexuality and bisexuality through the years, the media's approach to bisexual celebrities, and fictional bisexual characters.
Filled with raw, honest first-person accounts as well as thoughts from leading bisexual activists in the UK, this is the book you'll buy for your friend who's just come out to you as bi-curious, or for your parents who think your bisexuality is weird or a phase, or for yourself, because you know you're bi but you don't know where to go or what to do about it.
Synopsis
"There are so few books published where the lives of bisexual people are the starting point. But that's not the only reason Purple Prose: Bisexuality in Britain is important. It's an interesting and enjoyable book, featuring contributions from a wide range of people from across the British bi community. Addressing the needs and concerns of bi people, this is a must-read for anyone who is attracted to people of more than one gender, and for those who know and love us."
—Sue George, author, Women and Bisexuality, blogger, Bisexuality and Beyond
"At last! British bisexuals come out of the closet with Purple Prose – answering pressing questions about identity, activism, prejudice, relationships and much more. With bisexuality becoming ever more visible in mainstream culture, this book is essential reading for bi people and would-be allies, within the LGBT community and beyond. You need a copy in your life."
—Louise Carolin, Deputy editor, DIVA magazine
About the Author
Kate Harrad is a published fiction and non-fiction writer. She co-edited The Ladies' Loos: From Plumbing to Plucking, a Practical Guide for Girls (The Friday Project, 2006), and her novel All Lies and Jest was published by Ghostwoods Books in 2011. She has over a decade of experience working in business editorial/writing positions, and has written for the Guardian, the F-Word and the Huffington Post. She has also been a bi activist for several years, and has co-organized numerous UK bi events.
Register to tell a friend about this lecture.
Comments
If you would like to comment about this lecture, please register here.