The Language of Symbols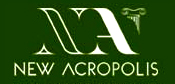 Symbols are a language we can all recognise but few of us can read. Over thousands of years, symbols have been used to express the ineffable and to create a bridge between the invisible and visible dimension.
Learning to understand them better will help to develop our imagination, which is one of our most important and powerful faculties. Symbols have the power to re-connect us with a world full of meaning.
This 4-week course (1 evening per week) will introduce you to symbology - the study of symbols. The course will explore some of the most important symbols of different cultures and reveal deeper layers of meaning in art and architecture.
Topics of the 4 evenings
1. Introduction to symbology and the universal symbols of numbers, geometrical shapes and nature.
2. Journey through the symbols of ancient Egypt and Greece. Gilbert Durand's concept of the Imaginarium.
3. Sacred Art and Symbols of India (Buddhism, Hinduism).
4. The symbolic dimension in Sacred Architecture.
Register to tell a friend about this lecture.
Comments
If you would like to comment about this lecture, please register here.