The Immortal Memory of Tutankhamun and his Grave Robbers.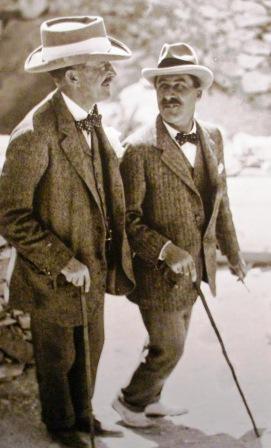 The talk on Tutankhamun and its discoverers is geared to Art Appreciation and a reflection on the lives of the three figures Lord Carnarvon, Howard Carter and the boy King Tutankhamun
Tutankhamun ( often recorded as Tutankhamen ) is one of the immortals, an icon restored to life in the 20th century who will always have admirers and people interested in his legacy. The 'Tut' effect – Tut-mania of the 1920s like Beatlemania in the 1960s, hit every culture and medium, books, film, art and fashion. This was due to the efforts of two men, a never-do well- playboy peer, George Herbert, 5th Earl of Carnavon and a shy, ill-tempered British archaeologist / artist Howard Carter. They were in effect Tutankhamun's tomb robbers with a claim on priceless treasures buried in the Valley of the Kings, one of Egypt's dead zones.
A Royal tomb, containing over 5000 objects, many of fine gilt and precious gold and jewels eeked out of the sands and rubble of Ancient Thebes. After years of persistent, but systematic digging led by Howard Carter a stairway was found on 4 November, 1922. The sixteen stone steps led down to a sealed door and corridor and four roomed chambers containing the only intact tomb of a Pharaoh of ancient Egypt, the little know King Tutankhamun of the 18th Dynasty, who as a boy aged 9 until his death at the age of 19 ruled Egypt between 1336-1327 BC.
Almost 100 years later what can be left to reveal about the discovery and its discoverers? Author William Cross ( who has written several books on Highclere folk) has revisited the story of the men behind the tale and Tutankhamun himself to add a few new dimensions to understanding the epic journey made by all three figures and their lives and the odds against their success.
Cross shares some surprising findings from his latest book" Carnarvon, Carter and Tutankhamun Revisited. The hidden truths and doomed relationships. " He also shows off some rare items of interest he has personally acquired for his own personal collection of art overlapping the figures in the story and that also have a relevance to the controversial claims made in his many years of research.
Speaker(s):

Date and Time:

25 January 2017 at 2:00 pm

Duration:


2 hours

Venue:


Chepstow U3A Group
c/o Chepstow Leisure Centre
Welsh Street
Chepstow
NP16 5LR


Show map



Organised by:


William Cross, FSA Scot
See other talks organised by William Cross, FSA Scot...

Tickets:

Members and Guests

Available from:

Members and Guests

Membership Information:

This is a members-only event


Members and Guests

Additional Information:

William Cross, FSA Scot is a writer based in Newport, South Wales. He has written six books on the Carnarvons of Highclere Castle ( the Carnarvon seat) and is the biographer of several members of the Carnarvon family including George, the 5th Earl and Almina Wombwekk, the 5th Countess of Carnarvon.
Register to tell a friend about this lecture.
Comments
If you would like to comment about this lecture, please register here.