Myth and Philosophy: Socrates as the philosophic Theseus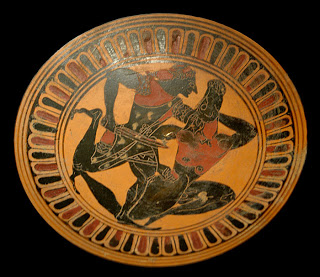 Plato's weaving of Socrates with the myth of Theseus and the Minotaur in the Phaedo
The myths of Theseus tell of his journey to the kingdom of Minos and his conquest of the Minotaur in the dark labyrinth – and how, in so doing, he rescued the fourteen youths and maidens from the clutches of the half-man half-bull monster. There are several places in Plato's Phaedo where hints of these myths surface for a moment as the various arguments for the immortality of the soul are discussed: as Socrates guides his fourteen companions through the twists and turns of those arguments he perhaps rescues them from the great fear of death which underlies human life. As one of the speakers says, "Socrates, persuade us that death is not the end of everything, as if we were afraid, or rather as if we were not afraid; though, perhaps, there is some boy among us, by whom circumstances of this kind may be dreaded." We will retell the myth of Theseus and the Minotaur and read short extracts from the Phaedo before discussing the ideas that arise from it.
No previous experience of formal philosophy is required.
Entrance in free, but donations between £3-5 will be welcomed.
A PDF download of the extract we will be reading is available on our website together with further details of this and other Prometheus Trust's activities: www.prometheustrust.co.uk (the PDF is on the "London Monday Evenings" page.)
Register to tell a friend about this lecture.
Comments
If you would like to comment about this lecture, please register here.