Why haven't we cured cancer yet? IET EngTalks: Future Science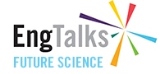 ree to attend evening event. EngTalk speaker Prof Eleanor Stride, Oxford University will assess the challenges faced when trying to answer the question – "why haven't we cured cancer yet?"
Despite a century of incredible breakthroughs, cancer patient survival rates are still quoted in terms of 3 or 5 years and the impact of new treatments is so varied.
Could we design, manufacture and deliver 'stimuli-responsive' particles directly to the target site?
Oxford University's Professor Eleanor Stride believes we can. In this year's first Future Science EngTalk, she'll introduce her work with 'microbubbles', the challenges of new drug delivery strategies and their potential for improving treatment of major diseases such as cancer or stroke.
First up, introducing Eleanor, will be our 10-minute insight speaker, Dr Jack Kreindler.
Founder of The Centre for Health and Human Performance, this is a man who wants to bring Artificial Intelligence into medical practice.
Register to tell a friend about this lecture.
Comments
If you would like to comment about this lecture, please register here.