The Knights Templar: History, Myths and the Order of the Knights of Christ.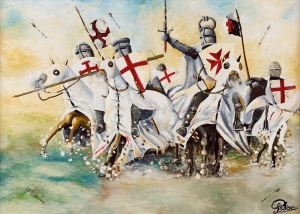 The Order of the Knights Templar was established in 1118 by nine knights led by Hughes de Payens. From then on, a new model of Christianity emerged: the monk-knight archetype.
Christian doctrine could not accept that a knight could reach the same degree of closeness to the divine as a monk. Since knights spilt blood and generated violence, this seemed incompatible with Christian values such as love and compassion. The Knights Templar emerged to change this perception. One can achieve divine glory not only by fighting the enemies of the Christian civilization, but also by fighting the internal and invisible enemies that disturb the harmony within oneself. The Knights Templar soon became powerful and, after only 200 years of existence, came to be seen as a threat. Consequently, they were persecuted, tortured and killed under the orders of King Philip IV of France. The few who survived escaped to Portugal where they were renamed the Order of the Knights of Christ. Some believe that the knowledge the Templars brought from theEastern lands influenced Portugal and was the trigger for the Portuguese Age of Discovery.
Speaker: Catarina Moreira
Speaker(s):

Catarina Moreira | talks


Date and Time:

17 April 2018 at 7:00 pm

Duration:


2 hours

Venue:


New Acropolis
19 Compton Terrace
London
N1 2UN
02073590059
http://www.newacropolisuk.org

More at New Acropolis...

Tickets:

£5

Available from:

http://www.newacropolisuk.org/home.php

Additional Information:

http://www.newacropolisuk.org/home.php
Register to tell a friend about this lecture.
Comments
If you would like to comment about this lecture, please register here.