PARTICIPATE OR ELSE?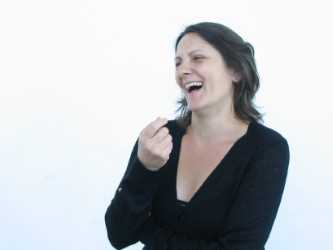 Join ID and Rebecca Hilton for a Long Table* discussion about the perplexing and plastic relationship(s) between ethics and aesthetics in participatory performance making.
The Long Table was conceived by Lois Weaver, as "a dinner party structured by etiquette, where conversation is the only course."
ABOUT REBECCA HILTON
I'm an Australian born dance person living in Stockholm. My practices include dancing, performing, choreographing, conversing and writing. In my three and a half decades involved in dance I've contributed to the work of a range of artists including Russell Dumas, Stephen Petronio, Mathew Barney, Michael Clark, Tere O'Connor, Jennifer Monson, John Jasperse, Lucy Guerin, Tino Sehgal, Xavier Le Roy, Scarlet Yu, Chrysa Parkinson, among others. At the Stockholm University of the Arts, as Professor in Choreography for the research area Site Event Encounter, I am working on GROUPNESS - researching relationships between embodied practices, oral traditions and choreographic systems - in environments including universities, community run organisations, friendship circles and family groups. Currently I am a choreographer in residence at Malarbacken, (Sweden's largest elder care centre) as part of DoBra, a research project orchestrated by the Karolinska Institute. DoBra is a decade-long, nation-wide research program exploring relationships to death and dying in Sweden.
Speaker(s):

Date and Time:

8 December 2018 at 7:00 pm

Duration:


1 hour 30 minutes

Venue:


Independent Dance
Siobhan Davies Studios
85 St George's Road
London
SE1 6ER
020 7091 9650
http://www.independentdance.co.uk

More at Independent Dance...

Tickets:

FREE

Available from:

Book here: http://www.independentdance.co.uk/programmepage/activities/winlab-2
Register to tell a friend about this lecture.
Comments
If you would like to comment about this lecture, please register here.