Lab Rats: Why Modern Work Makes People Miserable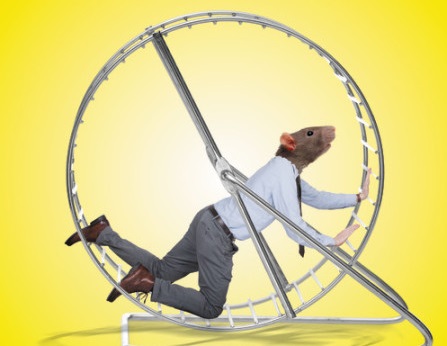 Join Dan Lyons on the pain and more pain of work in the twenty-first century.
Personality tests. Team-building exercises. Forced Fun. Desktop surveillance. Open-plan offices. Acronyms. Diminishing job security. Hot desking. Pointless perks. Hackathons.
If any of the above sound familiar, welcome to the modern economy. In this hilarious, but deadly serious book, bestselling author Dan Lyons looks at how the world of work has slowly morphed from one of unions and steady career progression to a dystopia made of bean bags and unpaid internships. And that's the 'good' jobs...

With the same wit that made Disrupted an international bestseller, Lyons shows how the hypocrisy of Silicon Valley has now been exported globally to a job near you. Even low-grade employees are now expected to view their jobs with a cult-like fervour, despite diminishing prospects of promotion. From the gig economy to the new digital oligarchs, Lyons deliciously roasts the new work climate, while asking what can be done to recoup some sanity and dignity for the expanding class of middle-class serfs.
Dan Lyons is an author, journalist, and screenwriter. He has co-produced and written for the HBO series Silicon Valley, was technology editor at Newsweek and was the creator of the ground-breaking viral blog "The Secret Diary of Steve Jobs" (AKA "Fake Steve Jobs"). His first book, Disrupted, was a New York Times Bestseller.
His book Lab Rats: Why Modern Work Makes People Miserable will be available on the night.
In support Carmen D'Cruz, aka Carmina Biryana, brings together the oft neglected themes of project management, Croydon based philosophy and hardcore BDSM to the world of comedy.
Be:
- informed
- entertained, and
- inspired to try this at home
Speaker(s):

Date and Time:

13 May 2019 at 7:30 pm

Duration:


2 hours

Venue:


The Water Rats
328 Grays Inn Road
London
WC1X 8BZ
020 7833 3312
http://thewaterratsvenue.london/index.html
Show map



Organised by:


Tickets:

£7 / £5

Available from:

https://www.wegottickets.com/event/468936
Register to tell a friend about this lecture.
Comments
If you would like to comment about this lecture, please register here.