Mermaids: Fish, Flesh or Fowl?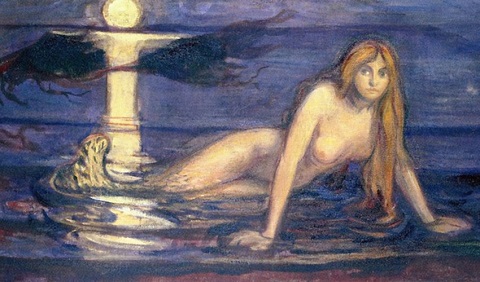 We all know what a mermaid looks like but her greatest significance may be her gender
We all know what a mermaid looks like: a woman with a fish's tail. But tracing her family tree from ancient myth and image, through medieval symbol and Renaissance legend, romantic folktale and suggestive art, we find a shape-shifter whose cousins are birds, monkeys, seals and serpents, as well as fish; whose greatest significance may be simply her gender, showing in her mirror a reflection of how men, through history, have seen women.
Sophia Kingshill is the author of Mermaids (Little Toller, 2015), a cultural history of sirens, selkies and other sea women. She is co-author of The Fabled Coast (Random House, 2012) and The Lore of Scotland (Random House, 2009), with the late Jennifer Westwood. Her YA fantasy novel Between the Raven and the Dove was published by Accent Press in 2017, and she is currently working on the sequel. She lives in London and is a member of the Folklore Society.
Register to tell a friend about this lecture.
Comments
If you would like to comment about this lecture, please register here.