Discover Philosophy Philosophies of East and West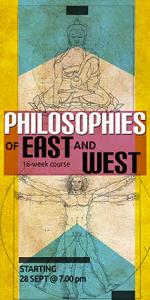 This 16-week course will introduce you to the major concepts of Eastern and Western Philosophy and explore their relevance and practical application for our lives.
In this sense, we are all born philosophers, with an innate need to ask questions and with the intuition that there are answers to be found. Every civilization has passed on to us its experience and understanding of life.However, most of us have had little opportunity to learn about the vast heritage of ideas that have inspired and guided humanity throughout history.
Course Framework
Ethics: Understanding yourself
Ethics enquires about moral principles and the impact of individuals on their environment. But it is also related to happiness, as it helps us to find the right 'inner attitude' to deal with different life situations in ways that are beneficial to ourselves and to others.
Sociopolitics: Living together in harmony with others
Sociopolitics looks at relationships in society, both between individuals and between the individual and the group. It is concerned with finding principles by which we can create harmonious communities where everyone can flourish.
Philosophy of History: Being part of something greater
We are all products of history and at the same time we all contribute to making history. Philosophy of History seeks wisdom in the study of the past and how to apply the lessons of history to the present.
Philosophy for Living: Practical Application
What is the value of thinking without action? Action is the real measure of what we are, theory and practice inform each other. Each course evening will explore the practical relevance of philosophy and its potential to transform ourselves and society.
First introductory evening FREE. Price for the whole course £190 (£130 concessions), handouts included.
Topics of the 3 evenings
How our mind creates our experience of reality. Mindsets: what they are and how they work. Learning to see things differently. The importance of distinguishing between "two realities".
Develop your innate creativity. Creativity and different modes of thinking. IQ vs creativity. Imagination and the ability to create what does not yet exist. What can help us to become more creative.
Consciousness and self-awareness. The stages of inner awakening according to Tibetan Buddhism. Meditation and its different interpretations and practices. Achieving a state of relaxed concentration.
Speaker(s):

Prof Julian Scott | talks


Date and Time:

27 February 2020 at 7:00 pm

Duration:


1 hour 30 minutes

Venue:


New Acropolis
19 Compton Terrace
London
N1 2UN
02073590059
http://www.newacropolisuk.org

More at New Acropolis...

Tickets:

£190 (£130 conc.)

Available from:

Additional Information:

http://www.newacropolisuk.org/events.php
Register to tell a friend about this lecture.
Comments
If you would like to comment about this lecture, please register here.