Unseen Stories: Behind the Lens with Photographers Mary Quincy, Tara Moller and Tara Todras-Whitehil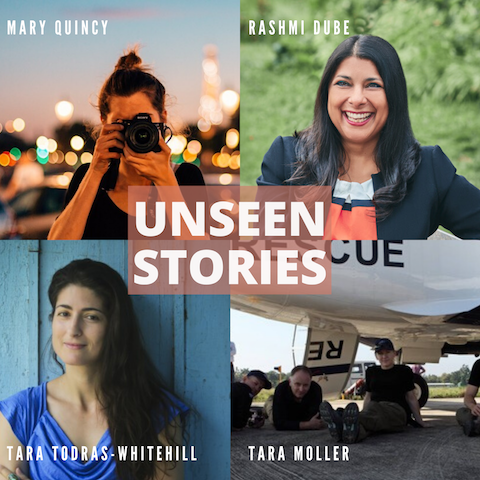 A panel discussion on the theme of global feminism through the unseen stories that feminist photography can bring to light. The panel will be moderated by Rashmi Dube, an award-winning lawyer, columnist and renowned public speaker
The Circle's ongoing COVID-19 emergency appeal is currently raising crucial funds for vulnerable women and girls disproportionately affected by the ongoing COVID-19 pandemic and whose experiences are not always visible or seen around the world.
To build awareness around those women's stories, The Circle (NGO) is excited to welcome esteemed photographers Tara Moller, Mary Quincy and Tara Todras-Whitehill to a panel discussion on the theme of global feminism through the unseen stories that feminist photography can bring to light. The panel will be moderated by Rashmi Dube, an award-winning lawyer, columnist and renowned public speaker.
Who is seen and who is not defines the status quo, and those that embody the 'unseen' are marginalised and cast out from popular discourse? How has it happened that some women's stories have been left behind? What can we do to ensure that all global female experience is seen and heard?
This informed conversation will also touch upon the role of our fabulous photographers, currently operating in a male-dominated industry, to shine light on these stories and histories. Who are the women behind the lens? What is the relationship between subject and photographer, and how does the camera mediate this space?
Alongside the event, we will be hosting an online auction selling beautiful print, digital and exclusive sets of images taken by our photographers to raise money for the COVID-19 Appeal. In addition, prints for download and screensavers will be available on The Circle website. More information on when the auction goes live and when photographs are available for download will follow shortly.
About the Panel
Mary Quincy is a full-time photographer based in Paris. She is fascinated by the authenticity of every place she visits & tries to capture instant moments. She is passionate about travel and aims to visit a new place every month. Self-taught, she grew a passion for photography and shares shots taken during her trips around the world on social media. As she explored more than 50 countries, she had the chance to hear and photograph women in many places.
It pushed her to be a member of The Circle to help and support women who can't be heard and to fight for equal rights. Just like she prefers to be "unseen" on social media by not showing herself, these images are "unseen" as well as they are from her private collection.
Tara Moller is a highly experienced, award-winning photographer based in the UK. She discovered her passion for creativity through her appreciation of the ocean and breath-taking surroundings. From the age of 17, she was inspired by her grandmother's work, which was featured in the National Geographic and Vogue. Seeing this drove Tara to start exploring and taking her own photographs. Being able to explore different cultures and capture unseen stories globally is key to Tara's work.
Tara Todras-Whitehill is an award-winning photojournalist and storytelling consultant who is passionate about elevating global game-changers. She helps organizations and communications professionals hone their media skills so their stories can achieve maximum impact and (hopefully) make the world a little more compassionate. She is currently a mentor for the The Marie Colvin Journalists' Network, which connects female journalists working in the Middle East and North Africa and is part of The Circle collective.
From 2013-2019 she co-founded and ran Vignette, a storytelling company that worked with NGOs like UNICEF, IRC, and HRW among others to create interactive media projects. Previously she worked as a staff photographer for the Associated Press in the Middle East, covering the Arab world. She has won several awards and major grants including a World Press Photo award for her work in Sierra Leone on Ebola survivors and was the recipient of the James Foley Conflict Reporting Award.
Rashmi Dube is a lawyer, CEO, business thought leader and writer. Rashmi's day job includes Future Thinking and helping business bring the future to their business now by pivoting and turning their business and brands around. Although Rashmi is relatively a new member to the Circle, having joined in 2018, she has already contributed by raising funds with her fellow paddlers in a dragon boat race, paddling 21 miles along the Thames in The Great River Race, writing blogs and contributing her time in many other ways. Rashmi is passionate about being an advocate for women and girls globally and ensure that they are being seen and heard.
There will be an online auction as well as a dedicated site where images can be downloaded
Speaker(s):

Tara Moller | talks | www
Tara Todras-Whitehill | talks | www
Mary Quincy | talks | www
Rashmi Dube | talks | www


Date and Time:

22 July 2020 at 7:00 pm

Duration:


1 hour 30 minutes

Venue:


The Circle NGO
Merchant House
30 Cloth Market
Newcastle upon Tyne
NE1 1EE

http://https://thecircle.ngo/events/

More at The Circle NGO...

Tickets:

Donation

Available from:

https://www.eventbrite.co.uk/e/unseen-stories-behind-the-lens-tickets-112458075130

Additional Information:

This event is in support of The Circle's COVID-19 Appeal to help vulnerable women and girls
Register to tell a friend about this lecture.
Comments
If you would like to comment about this lecture, please register here.