Critical Reflections: How COVID-19 has changed the lives of women and girls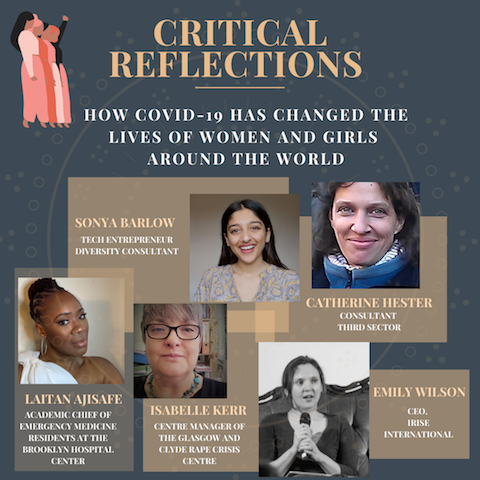 The onset of COVID-19 at the start of 2020 quickly demonstrated the devastating economic and social impact of a global pandemic.
As the virus spread, it became clear that women and girls around the world, especially from developing countries and the Global South, were disproportionately affected as pre-existing inequalities and social norms were exacerbated. Women were also positioned on the front line, constituting 70% of the health and social sector global workforce at the time of the outbreak.
Through The Circle's ongoing initiatives, such as providing living wage support to garment workers in Bangladesh or working alongside charities such as the Glasgow & Clyde Rape Crisis, we heard stories from women who had unfairly lost their jobs, suffered severe mental distress, and been victims of increased domestic violence figures. As an organisation supporting the world's most vulnerable women and girls, our dedicated COVID-19 appeal (The Women and Girls Solidarity Fund') has so far raised urgent funds for our important partner projects, and donations continue to roll in on a daily basis.
We are pleased to announce a dedicated online panel discussion to critically reflect on the impact that the COVID-19 pandemic has had, and continues to have, on women around the world. At this juncture in the pandemic, how can we learn from the initial lessons of COVID-19 to ensure our policies for global recovery are gender-mainstreamed? Why should we work together in our unique communities and societies to ensure we share the voice and burden of all women globally in health crises?
We are honoured to be able to hear and discuss the personal experiences of our incredible speakers who witnessed the calamitous effects on women in their communities first hand:
Olaitan Lola Ajisafe, PharmD, MD, is the current Academic Chief of Emergency Medicine residents at the Brooklyn Hospital Center. She studied Pharmacy at Temple University, graduating with a Bachelors, and earned her Doctorate in Pharmacy at Univ of Florida. Before following her dreams and starting her career in medicine at Morehouse School of Medicine, she was a practicing pharmacist for 13 years. Dr Ajisafe is a mother to two amazing children and is a strong believer that all the tools we require as humans lay within us. She was recently nominated by Essence magazine as an essential hero for being a Covid warrior as the state of New York descended into chaos, as healthcare system struggled to battle the pandemic.
Sonya Barlow is an award-winning diversity business coach and motivational speaker delivering key notes to empower those around her. Focusing on empowering young professionals in Tech; she has delivered two TEDX Talks; a handful of European keynotes; 110+ workshops, had her business-based articles published in Metro newspaper and Sifted EU and partnered with global organisations such as Google, Santander, Vodafone, Oxford University and PWC. "Strategically Winging It" is her famous tagline as a result of three successful chapters of LMF Network in 18 months - extending all the way from the UK to Toronto and Madrid. Utilising social media, she engages an audience of ~30K with her charmingly witty remarks. All the while carrying her Pakistani heritage proudly, she has drawn attention to the social stigmas faced by the under-represented BAME community. Having been raised in average working class family, she understands the importance of leading as a successful role model to encourage inclusion and staples this to the forefront of all her business collaborations. Sonya is a multi hyphenated individual - sharing her expertise through consultancy, training, community building, workshop facilitation, podcasts, articles and a soon to be released book.
Emily Wilson has been working full time as CEO of Irise for the last 6 years, growing it from a grassroots group with a £10,000 grant into an international NGO with 16 staff across two continents, working in partnership with governments and universities to realise period equality for everyone. In 2019 she received the Power Together Award from the Global Women Political Leaders Forum in recognition of Irise's contribution to creating a global movement to end period poverty and shame. She is also a co-convener on the UK government's Period Poverty Task Force. Emily believes that when young women lead they can transform the world.
Dr Isabelle Kerr is Centre Manager of the Glasgow and Clyde Rape Crisis Centre which is Scotland's first Rape Crisis Centre, opened in 1976, and remains the longest operational in the UK, helping girls and women who have experienced rape, sexual assault and/or violence by providing free and confidential support. Isabelle brings over 35 years experience across the Third Sector including homelessness, youth and equalities work among others. She first started volunteering at the Centre in 1981 and was appointed Manager in 2006 where she oversees the work of support and advocacy as well as prevention workers. She is experienced in the field of trauma and also teaches on this topic at Glasgow University. Isabelle is inspired by the bravery and resilience of survivors and motivated by the young women full of passion and energy keen to support other women and girls.
The event will be moderated by Catherine Hester, who has a background in working with children with special needs and teaching in mainstream primary education. In the mid-90s, she worked with street children in Tanzania with VSO, before joining Oxfam and working in senior roles across campaigns and programme work. In 2010, Catherine joined White Ribbon Alliance for Safe Motherhood (WRA); as Deputy Director she was responsible for effective coordination across WRA's National Alliances in 14 countries, leading the charge to protect women's rights during pregnancy and childbirth. In her consultancy work over the past 4 years, Catherine has worked with many large and small NGOs, helping to shape their strategic and operational plans, including WRA, Save the Children and War Child, and has facilitated a wide range of workshops and staff retreats over the past 25 years.
Speaker(s):

Dr Laitan Ajisafe | talks
Sonya Barlow | talks
Dr Isabelle Kerr | talks
Emily Wilson | talks


Date and Time:

10 September 2020 at 6:30 pm

Duration:


1 hour

Venue:


The Circle NGO
Merchant House
30 Cloth Market
Newcastle upon Tyne
NE1 1EE

http://https://thecircle.ngo/events/

More at The Circle NGO...

Tickets:

Donation

Available from:

https://www.eventbrite.co.uk/e/critical-reflections-how-covid-19-has-changed-the-lives-of-women-and-girls-tickets-117910448325
Register to tell a friend about this lecture.
Comments
If you would like to comment about this lecture, please register here.