The Great Chamber contrasted with the private painted rooms of the 17th Century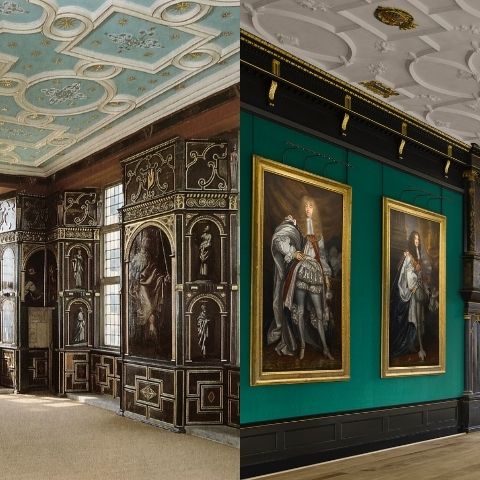 In this online lecture curator and arts consultant Mireille Galinou compares & contrasts 17th Century private chambers
The Great Chamber at Charterhouse has a split identity – a grand private room in the sixteenth century, a seat of power for the governors of a new charity from the seventeenth century onwards and a heritage landmark in the twentieth and twenty-first century. In this online lecture, curator, and arts and museums consultant Mireille Galinou proposes to re-position the Great Chamber by juxtaposing it to painted rooms of the seventeenth century. You are invited to a private tour of several of these painted rooms – in Berkshire (Sir John Kedemister Library), in Derbyshire (Hardwick Hall & Bolsover Castle), Northamptonshire (Canons Ashby), Wiltshire (Wilton House), and finally London (Carshalton & Botolph Lane). Which identity will prevail?
Speaker(s):

Date and Time:

28 October 2021 at 7:00 pm

Duration:


1 hour

Venue:


the Charterhouse
Charterhouse Square
London
EC1M 6AN
02072539503
http://www.thecharterhouse.org

More at the Charterhouse...

Tickets:

Free, donation welcome

Available from:

https://thecharterhouse.digitickets.co.uk/event-tickets/35063?catID=35204&
Register to tell a friend about this lecture.
Comments
If you would like to comment about this lecture, please register here.