Thermodynamics: from demons to black holes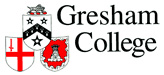 BIG IDEAS
Knowledge of the 'Second Law' of thermodynamics was C.P. Snow's touchstone of good general education. This talk will describe how all the four laws of thermodynamics emerged from the development of machines during industrial revolution and discuss their unusual consequences and ramifications, from the heat death of the universe to the impossibility of perpetual motion machines and the behaviour of black holes. We will look at the unusual features of systems that are far from equilibrium which, like life, seem to defy the traditional laws of thermodynamics.
Register to tell a friend about this lecture.
Comments
If you would like to comment about this lecture, please register here.