Play on: a journey into the mystery of song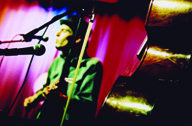 why do humans and birds converge on the same acoustic and aesthetic choices and why do babies respond to musical sound?
The propensity to make music is perhaps the most mysterious, wonderful and neglected feature of humankind and it is a skill we share with, among others, our feathered friends. But just how similar are Bach's Fugues or the tunes of Lennon and McCartney to the call of a starling or the song of a lark? Why, when humans have language, are our emotions, mind and indeed body so stirred by music, and why do birds sing? The 'music instinct' is far more ancient than previously suspected, and neanderthals and birds may have been jamming before they were talking. Do the so-called musical sounds created by birds serve only a biological function or do they sing for the same reason humans do: because they can, and because they must? Together with legendary saxophonist Evan, Steve and David R will bring these ideas and songs to life and delve deep into some of the oldest music on earth. This event will be chaired by musician, writer and curator of sound, David Toop.
Steven Mithen is Professor of Prehistory and Head of the School of Environmental Sciences at the University of Reading. He is a leading figure in the development of 'cognitive archaeology' and was elected as a Fellow of the British Academy in 2004.
Philosopher and musician David Rothenberg is Professor of Philosophy and Music at the New Jersey Institute of Technology. Author of numerous books and articles, David is also a composer and jazz clarinettist, and has released six CDs under his own name.
This event is in association with Penguin and Weidenfeld and Nichols.
Ticket price includes a glass of wine after the event and an opportunity to buy Steven and David's books The singing neanderthal and Why birds sing, respectively.
Register to tell a friend about this lecture.
Comments
If you would like to comment about this lecture, please register here.