"Big Bang" - Is that really how our universe began?

Are cosmologists confident that The Big Bang theory is an accurate description of the origin and history of the universe? How important is this knowledge to today's designers, engineers and users of communications?
IEEE Institute of Electrical and Electronics Engineers -
United Kingdom & Republic of Ireland Section
Autumn Meeting
Wednesday 5th October 2005 at 18:00 for 18:30
Simon Singh is an author, radio and tv personality, mathematician, with a PhD in Particle Physics (Cambridge & CERN).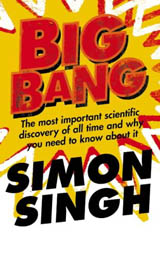 "Big Bang" tells the story of cosmology - the idea of a universe born at a single instant in the past - "a day without a yesterday"- and expanding from that moment.
IEEE UK&RI Section is glad to invite everyone to an enjoyable evening to hear Simon Singh's informative talk about one of the highest points of human achievement -the "Big Bang".
No charge, all welcome, but please come early to get a seat! Lecture starts 18:30 in the historic "Old Cinema" site of Lumiere's early cinematic theatre
Please check website www.ieee.org.uk for latest information.
Register to tell a friend about this lecture.
Comments
If you would like to comment about this lecture, please register here.