New Treatments of Obesity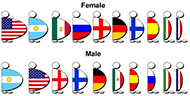 Join us to learn how obesity is regulated by appetite neuronal regulation and genetic factors.
Obesity has become such a major public health problem in the industrialized world that the World Health Organisation currently talks about 'obesity epidemics'.
It is well acknowledged that this disease results from interactions between environmental and genetic factors. While current research unravels the secrets of the regulation of appetite as well as the neural pathways of body weight regulation, the identification of a possible 'gene of obesity' may prove helpful for the development of new therapies.
Professor Steve Bloom of Imperial College London, and Professor Philippe Froguel of Pasteur Institute in Lille, France, will present two complementary approaches and discuss their views on tomorrow's treatment of obesity.
This seminar, organised by the Science & Technology Department of the French Embassy, is part of a series spanning all domains of science.
Please visit www.ambascience.co.uk for any further details.
This seminar will be held in the Merck and Sharp Dome Room of the Royal Society of Medicine.
Register to tell a friend about this lecture.
Comments
If you would like to comment about this lecture, please register here.