Role of ocean circulation in abrupt climatic changes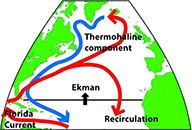 Come and discover how the changing atmosphere affects the ocean circulation and in return contribute to climate change.
Most debates on potential climate change have focused on the ongoing build-up of greenhouse gases in the atmosphere and a gradual increase in global temperatures. This however ignores recent and rapidly advancing evidence that Earth's climate repeatedly has shifted abruptly and dramatically in the past, and is capable of doing so in the future.
Come and learn about studies of past changes in the ocean thermohaline circulation and understand how these changes relate to the abrupt climatic changes recorded during glaciation periods around the North Atlantic. Get some insight into computer-modeling systems that help understand and simulate these past changes and be part of a discussion on the current models predicting future evolution of the thermohaline circulation. Listen to evidence suggesting that increase in atmospheric carbon dioxide will result in a slow down of the Atlantic overturning circulation, which in turn may result in a cooling of northwest Europe and have profound implications for climate change.
Register to tell a friend about this lecture.
Comments
If you would like to comment about this lecture, please register here.