New therapeutic perspectives for brain injury and disease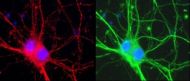 Come and discover new encouraging research that could lead to treatments for Alzheimer's disease or stroke.
By Prof. Nancy Rothwell, FRS, School of Biological Sciences, The University of Manchester and Prof. Alain Buisson, Institute of Applied Biology and Biochmistry, University of Caen

Alzheimer's & Parkinson's diseases... Epilepsy... Stroke...
The common denominator for these disorders is inflammation. We know it, yet we have no cures or effective treatments. Still, new approaches are being experimentally tested and research advances are encouraging. Scientists are investigating two molecules (IL-1 and Glutamate) that cause inflammation and are responsible, at least in part, for these disorders.
Come and discover how selective blocking of Glutamate receptors and reduction of brain injury caused by IL-1 might present a therapeutic interest in not-too-far a future.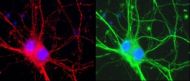 Where? Royal Society of Medicine, 1, Wimpole Street, W1G 0AE
When? 29 June 2006, 6pm
Register free at event@ambascience.co.uk or visit www.ambascience.co.uk
Register to tell a friend about this lecture.
Comments
If you would like to comment about this lecture, please register here.