King, Lover, Magician, Warrior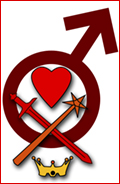 Male Archetypes for the Modern World
What does it mean to be a man? As social roles go through profound transformations, many men have lost the sense of male identity, or confuse it with a simple "machoism". This talk will look at some of the deeper masculine archetypes that have been discovered by Jung and others in the myths of ancient and traditional cultures. Discover the king, warrior, magician and lover – in yourself!
Register to tell a friend about this lecture.
Comments
If you would like to comment about this lecture, please register here.