Covenants without swords; swords without covenants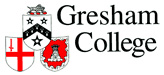 Rhetoric lecture
Hobbes declared that 'covenants, without the sword, are but words'. But the reverse it true as well. Even the most oppressive regimes avoid relying on mere force, and constantly seek justification for their actions.
Register to tell a friend about this lecture.
Comments
If you would like to comment about this lecture, please register here.