Northern Ireland and the British-Irish relationship: The Gladstonian Settlement revisited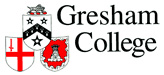 Law lecture
Why has it proved so difficult to resolve the problems of Northern Ireland? Will the current arrangements, an outcome of the Belfast of Good Friday agreement of 1998, provide a solution? This agreement seeks to revive old ideas first put forward by W.E.Gladstone, the 19th century Liberal Prime Minister. But, has the time for such ideas passed?
Register to tell a friend about this lecture.
Comments
If you would like to comment about this lecture, please register here.