Collision Course - how Science is Abused by the Media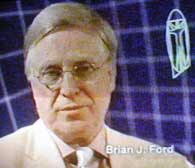 Current reporting of sciences leaves much to be desired, argues Professor Ford. But much of the fault lies with scientists themselves.
We are surrounded by science, and influenced by it every day; yet the coverage of science by the media is scandalous. News reports are misleading or incomplete, and major broadcasters (like the BBC) regularly get science wrong. Tonight we will meet some almost unbelievable examples of poor science reporting in newspapers and on the air. But it isn't only the fault of the media. Scientists regularly exaggerate their work, just to claim headlines. Today's textbooks contain numerous mistakes, and it's not as easy as you might think to have them pug right. The end result is that science is being given a poor deal.
NOTES
Brian launched his weekly programme Science Now for the BBC at a time when there was no science programme on Radio Four, and went on to present Where Are You Taking Us? (on radio), Food For Thought and Computer Challenge (on television). Currently he appears on television programmes about the Great Dictators, secret science in WW2, and as presenter of The Man Behind the Da Vinci Code.
He will include some examples from the press and broadcasting in tonight's presentation, and we'll see some really bad examples of science reporting from the Today programme on Radio Four. And there will be some remarkable examples of how the scientists get it wrong, too!
Speaker(s):

Date and Time:

9 October 2006 at 9:00 am

Duration:


1 hour

Venue:


Cockroft Theatre
Churchill College
Cambridge
CB3 0DS


Show map



Organised by:


Tickets:

£2.50 for non-members

Available from:

At the door
Register to tell a friend about this lecture.
Comments
If you would like to comment about this lecture, please register here.