The Forbidden Zone: Environmental Information Denied in Russia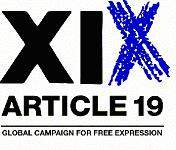 A panel discussion on environmental secrecy in Russia in the context of declining
freedom of information and expression.
Speakers will include:
Defending environmental campaigners' right to freedom of expression (Friederike Behr, Russia Team, Amnesty International)
Reporting on the environment (Steven Eke, BBC World Service in Russia)
Environmental information in Russia – an overview (Federica Prina, Europe Programme, ARTICLE 19)
Russian organisations' struggle for information Russia (Alexey Kiselev, Greenpeace)
Questions and Answers Session
Speaker(s):

Friederike Behr | talks
Federica Prina | talks | www
Steven Eke | talks
Alexey Kiselev | talks


Date and Time:

21 November 2006 at 7:30 pm

Duration:


2 hours 30 minutes

Venue:


Royal Institute of British Architects (RIBA)
66 Portland Place
London
W1B 1AD
+44 20 75 80 55 33
http://www.architecture.com/programmes
Show map



Organised by:


Tickets:

FREE

Available from:

Additional Information:

For further information contact federica@article19.org or download our event flyer at http://www.article19.org/pdfs/other/russia-event-flyer.pdf
Register to tell a friend about this lecture.
Comments
If you would like to comment about this lecture, please register here.