Carbon based electronics: fundamentals and device applications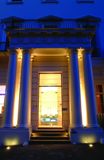 Two day Scientific Discussion Meeting
This meeting will survey recent developments in the physics and applications of carbon-based electronics. The allotropes of carbon carbon nanotubes, single atomic layers of graphite (graphene), fullerene molecules and diamond have emerged recently as new electronic materials with unique properties. In graphene, the conduction electrons behave as massless, quasi-ballistic particles, an effect which can be exploited to make novel transistors. Intense electroluminescence and induced superconductivity have recently been reported in carbon nanotube devices. The meeting will also include talks on superconducting diamond and electronic devices made from diamond and fullerene molecules.
World-leading experts from universities and industry will speak about recent research developments. Confirmed speakers include Professor T Ando, Professor P Avouris, Dr J Butler, Professor J Davidson, Professor A Geim, Professor Iijima, and Professor Christian Schoenenberger.
Speaker(s):

Professor Laurence Eaves FRS | talks
Professor Alison Mainwood | talks
Professor Robin Nicholas | talks


Date and Time:

21 May 2007 at 9:30 pm

Duration:


Full Day

Venue:


The Royal Society
6-9 Carlton House Terrace
London
SW1Y 5AG
+44 20 74 51 2500
http://www.royalsociety.org

More at The Royal Society...

Tickets:

FREE

Available from:

Additional Information:

Pre-registration is required
Register to tell a friend about this lecture.
Comments
If you would like to comment about this lecture, please register here.