Secularism and Humanism are not Religions or Belief Systems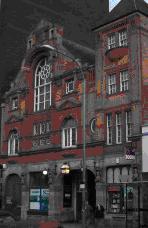 See title
Maryam Namazie: Secularism and Humanism are not Religions or Belief Systems. Maryam discusses the dangers of regarding secularism and humanism as forms of religion, belief or dogma, and how it can prevent people from challenging religion. Maryam, secularist of the year 2005, was indisposed and could not give her talk in November. Let's give her a hearty welcome this evening.
Register to tell a friend about this lecture.
Comments
If you would like to comment about this lecture, please register here.