FAS Convention 2007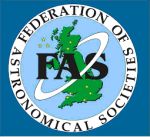 FAS Convention + AGM. Full day of talks and trade stands.
The 2007 AGM & Convention will once again be held at the BMI (Birmingham & Midland Institute) on Sat 13th October 2007. This is your chance to give feedback and get involved in how the FAS is run, we also have a busy schedule of talks and trade stands.
Talks:
Prof Mike Cruise, University of Birmingham 'The Search for Gravitational Waves'
Prof Colin Pillinger, Open University 'Space is a Funny Place: 50 Years and more of space exploration'
(+ Colin Pillinger will be signing copies of his new book "Space is a Funny Place")
Prof Phil Diamond, University of Manchester 'Jodrell Bank: at the heart of the past and the future of radio astronomy'
Jerry Stone: How to book and run a public star party
Samuel George: The International Year of Astronomy- What's Happening?
The BMI is a 5 minute walk from Birmingham New Street station.
Tickets: £12 on the door or £10 if pre-booked. Advanced tickets can be obtained from Callum Potter. email:
president@fedastro.org.uk or tel: 01684 773256 - the booking form can be found at http://www.fedastro.org.uk/FAS2007.pdf
Register to tell a friend about this lecture.
Comments
If you would like to comment about this lecture, please register here.