Engineered zinc finger proteins for the regulation of gene expression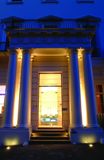 Croonian Prize Lecture
In this lecture, Nobel Prize winner Sir Aaron Klug will discuss recent developments including trials using VEGF-activating ZFPs to treat human peripheral arterial disease by stimulating vascular growth. Other examples of therapeutic development programs are those on neuropathic pain, macular degeneration and producing permanently modified uninfectable T-cells to combat both HIV and opportunistic infections.
Register to tell a friend about this lecture.
Comments
If you would like to comment about this lecture, please register here.