Observing the Invisible - celebrating Leeuwnhoek's 375th anniversary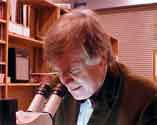 The father of the microscope, Antony van Leeuwenhoek, was born 375 years ago this week. Here we rediscover his work.
Leeuwenhoek's observations of microorganisms, made when he was a middle-aged amateur enthusiast, laid the ground for the modern science of biological microscopy. His career belies those who insist that innovative science is the province of the young, or best done by teams: he worked obsessively alone, often refusing to receive visiting notables who shared his interests, and did not begin his lifetime of endeavour until he was forty years old. Yet – by the time he died, on 30 August, 1723 – he had devoted half-century to diligent research, effectively founding observational microscopy and laying the ground-work for microscopical experimentation.
This illustrated presentation shows us exactly what he could see with his tiny microscopes, and explains the secret source of his inspiration.
Speaker(s):

Date and Time:

22 October 2007 at 7:00 pm

Duration:


1 hour

Venue:


Sussex History of Medicine Society
St Richards Hospital
Spitalfields Lane
Chichester
PO19 6SE


Show map



Organised by:


Tickets:

£2.50

Available from:

At the door
Register to tell a friend about this lecture.
Comments
If you would like to comment about this lecture, please register here.