Family History Getaway Week: Victorian London Family and Social History
THIS EVENT HAS BEEN CANCELLED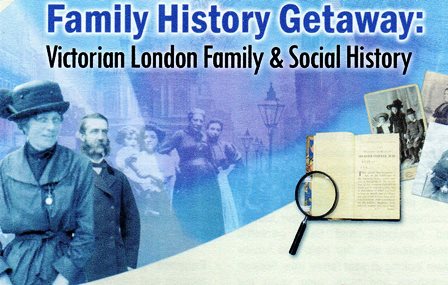 Spread over the five days, we aim to help you to develop your understanding of how your London ancestors lived and how their lives were affected by the social and local history of London.
Join us at the Society of Genealogists for a Family History Getaway Week. The Society is hosting this five-day programme in its Library in London. You can attend talks and workshops to find out how London Victorian families lived and how London's social issues and local history affected their lives. Then, as part of the programme, explore the books, documents and records in our Library and Catalogue and have personal consultations with our Help and Advice Team looking at your family tree. Sixteen workshops and talks, help using our Library and lunch included in the cost.
Have you found the basic records that show where your family lived in London? Do you have an idea of the jobs they did? Perhaps you have even found the streets they lived in. But life in Victorian London was extraordinary. It was already a major world city. The wealth it produced and expended was incredible. The poverty and appalling living conditions in some areas was shocking. Your Victorian ancestors were also living in an era of rapidly developing science, transport, politics and industry. So what was it like to live in Victorian London? This Getaway Week focuses on Victorian London families: how they lived, the issues they faced, their daily lives in the context of the social and local history of London.
Aims and objectives
Spread over the five days, we aim to help you to develop your understanding of how your London ancestors lived and how their lives were affected by the social and local history of London. We will focus primarily on Victorian London under some broad themes: birth and baptism; health, marriage, family and society; work and school; death and burial.
Enhance your techniques to find records and information that will help you to build up a picture of your London ancestors' lives.
Develop an understanding of the underlying social and local context of London life. An appreciation of the issues your ancestors faced enables you to make more sense of what they did and what happened to them.
Learn about the lesser known sources of records and data that will help you to really put some flesh on your ancestors' bones.
Time for your own research
We've built into the programme some time each day for you to do your own research. Of course, you will want to use the Society's remarkable Library collection of over 120,000 items - 4 floors full of fascinating records. And you can book personal consultations with the tutors and members of the Society's expert Help and Advice Team to discuss the challenges in your family tree.
Who should attend
Everyone researching their family history in London and building a family tree is very welcome.
Do you have the basic details for your London ancestors but wonder why they made certain choices and how they lived? This five-day Getaway programme is ideal for you.
Expect a friendly atmosphere, expert tutors and lots of detail. There is, of course, a sandwich lunch break and tea and coffee breaks during the day. Take the opportunity to get to know other people who share your interests in family history.
Speaker(s):

Else Churchill | talks | www
Dr. Kevin Brown | talks | www
Dr Colin Chapman | talks
Kathy Chater | talks
City of London guide Robert Stephenson | talks | www


Date and Time:

5 September 2016 at 10:30 am

Duration:


Full Day

Venue:


Society of Genealogists
14 Charterhouse Buildings
Goswell Road
London
EC1M 7BA
020 7553 3290
https://societyofgenealogists.arlo.co/w/

More at Society of Genealogists...

Tickets:

£220.00

Available from:

The cost covers: all talks and workshops, sandwich lunch, access to our Library and personal consultations.

Additional Information:

This course runs for five days, from Monday 5th to Friday 9th September.
Register to tell a friend about this lecture.
Comments
If you would like to comment about this lecture, please register here.