Walking the Digital Dog – Work, Learn and Play in Digital Worlds - The IET 30th Mountbatten Memorial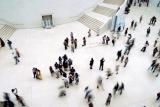 www.theiet.org/mountbatten
3D virtual worlds such as Second Life and There.com increasingly hit the headlines. But what exactly are they? What can and can't they do? How does one get started? Could virtual worlds really be the next big thing for business, social networking, education and entertainment?
Andrew Reynolds from IBM will share live demonstrations of companies and individuals already using virtual worlds as digital venues in which they work, learn and play. By addressing the four questions posed above, he hopes that those in the Mountbatten audience unfamiliar with "walking digital dogs" and such-like will wish to explore further.
Register to tell a friend about this lecture.
Comments
If you would like to comment about this lecture, please register here.