Fabulous Beasts: Imaging the Imagination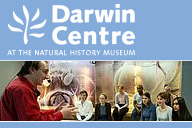 Meet the artists behind the Natural History Museum's new exhibition Fabulous Beasts
The work of artist Giles Revell is derived from electron microscopy, a technique often used by Museum scientists to examine specimens. Revell uses these powerful microscopes to explore the sculptural forms and natural engineering of common insects such as grasshoppers and ladybirds. By magnifying tiny features of these specimens and merging them, Revell creates immensely detailed photographs, each up to 2.5 metres tall. In today's Darwin Centre Live event, coinciding with the opening of Fabulous Beasts, join Giles, Museum entomologist Rory Post and exhibition curator Gabby Campbell Johnson to investigate what art and science have in common.
Register to tell a friend about this lecture.
Comments
If you would like to comment about this lecture, please register here.