Fabulous Beasts: Adventures in Observation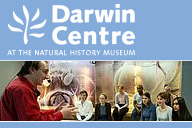 Meet the artists behind the Natural History Museum's new exhibition Fabulous Beasts
Mark Fairnington creates paintings derived from multiple microscopic photographs. Using high-definition electron microscopes to capture minute details of exotic and bizarre insect specimens, he interprets and reinvents them in paint on huge canvasses. His work is beautiful, but often unsettling. They are breathtaking large-scale images, minutely observed, yet subtly manipulated. Join us in Darwin Centre Live as we talk with Mark about his work and the processes that artists and scientists share.
Register to tell a friend about this lecture.
Comments
If you would like to comment about this lecture, please register here.