The Skeptic in the Courtroom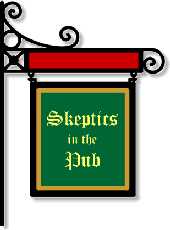 David Allen Green on how law deals with Fraudulent Mediumship, Blasphemy, Creationism, and other controversial matters of belief and non-belief
This talk will address, in an objective and balanced manner, how the law deals with certain controversial issues of belief and non-belief. Prompted by recent developments, the talk wil explore whether the courtroom is really the appropriate forum for settling disputes that relate to controversial issues of belief and non-belief.
For example, the Fraudulent Mediums Act 1951, the last remnant of the old witchcraft legislation, is to be repealed in April 2008. Mediums and psychics will now be under a new and modern legal regime in respect of any unfair commercial practices. But how will these new sanctions work in practice? Will mediums and psychics who adopt questionable practices be more or less likely to face legal action?
The ancient common law offence of blasphemy may also soon be abolished. A recent High Court decision has effectively narrowed its scope in any case. There is the new offence of incitement to religious hatred. But can the legal process really deal with what can be questions of religious dispute?
Other examples of where the law grapples with issues of belief and non-belief include the "Evolution" trials in United States, the Holocaust denal trials, and when religious groups seek to incorporate aspects of religious law into more general legal systems.
The talk will describe and assess these and other legal developments, using practical examples. It will also offer practical suggestions for both skeptics and non-skeptics on how legal regimes may affect them.
David is a solicitor in London with wide experience of the communications, media and public sector fields. He is the author of the chapters on the restrictions that criminal law places on free speech in the current edition of Law and the Media.
Speaker(s):

Date and Time:

15 April 2008 at 7:00 pm

Duration:


2 hours

Venue:


The Penderels Oak
283 High Holborn
London
WC1V 7HP
020 7242 5669

Show map



Organised by:


The Skeptic Magazine
See other talks organised by The Skeptic Magazine...

Tickets:

£2 donation

Available from:

Additional Information:

Skeptics in the Pub meets once every month at the Penderel's Oak, Holborn. A £2 donation is requested to cover the guest speaker's travelling expenses and sundries. Non-skeptics are welcome. Turn up at any time during the evening.
Register to tell a friend about this lecture.
Comments
If you would like to comment about this lecture, please register here.