Ideas, Inspiration and Infringement – the Three Is of the Design Industry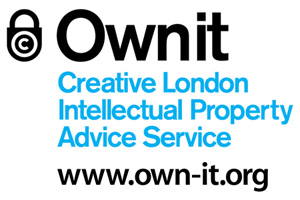 Three highly influential designers and art directors will talk about their own experiences and attitudes towards copying and being copied.
Whenever you create a new piece of work you can't help but being influenced by what is in the public domain – on the internet, on TV or in the streets. Sometimes, this process is highly unconscious, other times it is a very structured approach and your work will be the result of studying other people's previous achievements although will feel very different – or quite similar. But where does inspiration end and copying begin? When can you claim an idea as your own and when is it another person's intellectual property?
Own-it and D&AD have invited three highly influential designers and art directors, who will talk about their own practice and experience and their attitude towards copying and being copied – or rather having a tremendous influence on other creators' work. Additionally, a lawyer gives you an overview of relevant IPR issues in the UK and how you can avoid copying or being copied by other people.
The seminar is organised by Own-it in co-operation with D&AD and is part of the London Design Festival 2008.
Speakers include:
Michael Johnson, Johnson Banks
Author of the best selling Problem Solved (a primer in design and communication), Johnson's real job is running the internationally renowned design company, johnson banks. The company produces brand and identity schemes for clients as varied as the British Government, Shelter, Christian Aid, CABE, Think London, More Th>n and Parc de la Villette in Paris. Michael has invaluable experience of navigating the tricky world of intellectual property when applied to identities and images.
http://www.johnsonbanks.co.uk
Kjell Ekhorn, Non-Format
Non-Format is a creative team comprising Kjell Ekhorn (Norwegian) and Jon Forss
(British). They work on a range of projects including art direction, design and illustration
for music industry, arts & culture, fashion and advertising clients. They also art direct Varoom: the journal of illustration and made images.
A bestselling hardback monograph entitled Non-Format Love Song was published by Die Gestalten Verlag in 2007. A second edition was published in Spring 2008. A Non-Format edition of Pyramyd's Design And Designers series was published in 2006.
Non-Format is based in London, UK and Minneapolis, USA.
http://www.non-format.com
Paul Cohen, Art Director, AMV BBDO
After graduating from Central St Martins in 1996 Paul Cohen set up London based design studio 'the north terminal'. Clients included Sony Music, Ray Gun Magazine, The Royal Court Theatre and Penguin Books.
In 2002, he went to work at the adverting agency 'Mother' as an art director where he worked on campaigns for Orange, Selfridges, Coca Cola, and Kiss FM.
Since 2006, Paul has been working at 'AMV BBDO', where he has produced campaigns for GE (General Electric), RSPCA, Guinness and most recently the new illustrated campaign for The Economist .
Paul is a founder and Editor in Chief of Draft, a fine art magazine set up to publish previously unpublished work by the most important practitioners.
He has won awards at Campaign Poster, The Clios, Cannes, and a D&AD pencil for Draft.
Margaret Briffa, A leading intellectual property lawyer and founding partner of Briffa.
Margaret advises on all aspects of intellectual property protection and enforcement, with particular emphasis on dispute resolution. Margaret acted for the claimants in many design, patent and trade mark cases including the design cases Parker v Tidball (1996) and the Court of Appeal case of Farmers Build v Carier (1997) which are the cornerstones of the modern law of industrial design. On the trade mark side, Margaret is experienced in the planning and execution of anti-counterfeiting operations both in the UK and abroad and has been involved in numerous successful search and seizure operations. She has recently been appointed to act as defence lawyer in actions brought by the Motion Picture Association of America against 321 Studios in respect of the new law in the Copyright Designs and Patents Act 1988 dealing with circumvention of technical measures applied by rights owner. Margaret is co-author of 'Design Law' published by the Law Society 2004. In 2008, Margaret Briffa was appointed to the Panel of Independent Experts at Nominet to decide cases under the Dispute Resolution Service.
http://www.briffa.com
Speaker(s):

Mr Michael Johnson | talks | www
Kjell Ekhorn | talks | www
Paul Cohen | talks
Mrs Margaret Briffa | talks | www


Date and Time:

23 September 2008 at 6:00 pm

Duration:


3 hours

Venue:


Podium Lecture Theatre
London COllege of Communication
Elephant & Castle
London
SE1 6SB
020 75146569
http://www.lcc.arts.ac.uk
Show map



Organised by:


Tickets:

Free

Available from:

Places are limited so register online to reserve one at
http://www.own-it.org/events/details/?eventId=266

Additional Information:

You must register on the Own-it website to reserve a place: http://www.own-it.org/events/details/?eventId=266
Register to tell a friend about this lecture.
Comments
If you would like to comment about this lecture, please register here.