Saving Africa's athletes: conserving cheetahs and wild dogs
This is the first event in the new "ZSL/WCS Conservation Challenges for the 21st Century" series and will explore how cheetah and wild dogs can be conserved in modern Africa.
Africa has produced some of the world's most outstanding sports men and women, but the athletic achievements of two of its wildlife species deserve just as much acclaim. The cheetah is the fastest animal on land, while the African wild dog excels at endurance running and teamwork.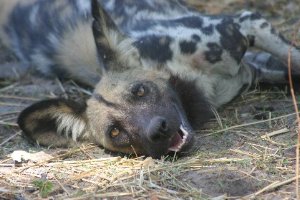 IMAGE: Sarah Durant, ZSL.
Despite these achievements, both species are highly threatened, and they present a major challenge for conservationists in the 21st century.
Running fast and ranging widely, cheetah and wild dog populations need larger areas than almost any other terrestrial carnivore species anywhere in the world. As human populations encroach on Africa's last wild areas, cheetah and wild dogs are among the first species to disappear.
Few of Africa's parks are large enough to conserve them, and the species' survival depends on linking parks with community and private lands, across international borders and on geographic scales rarely seen before in terrestrial conservation.
The evening will explore how cheetah and wild dogs can be conserved in modern Africa.
SPEAKERS:
Rosie Woodroffe will talk about her long term conservation work with wild dogs in Kenya, and will introduce plans for conserving both wild dogs and cheetah across Africa;
Maurus Msuha will draw on his experiences from working in conservation in Tanzania, and will discuss particular problems faced by developing countries in Africa in meeting conservation objectives; and
Sarah Durant will discuss her long term work on cheetah conservation in Tanzania and show how conservation plans for the two species can be implemented.
Organised by Jon Bielby, Conservation Programmes, ZSL.
Please note that timings are to be confirmed.
The talks are free to attend and open to the public (no advance booking or registration required). Seats will be allocated on a first-come first-served basis and please note that latecomers will not be admitted until a suitable break in the schedule.
Register to tell a friend about this lecture.
Comments
If you would like to comment about this lecture, please register here.