Communication in mammals: deciphering messages in visual, acoustic and olfactory signals
The evening will focus on the different methods of communication in mammals and how these may be interpreted.
The bewildering diversity in the appearance, sounds and odours of mammals offers fascinating challenges to students of animal communication:
When is information being transferred?
What are the messages?
Are animals always truthful or do they sometimes deceive each other?
With examples from across the mammalian taxonomic spectrum, this meeting explores how the senses of sight, hearing and smell are used to gain information from conspecifics.
The speakers will highlight new insights into the complexity of signalling and how animals perceive the world.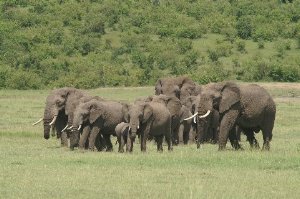 IMAGE ©Jakob Bro-Jørgensen
Organised by Dr Jakob Bro-Jørgensen, Institute of Zoology, ZSL
Speaker(s):

Professor Marta Manser, Universität Zürich | talks | www
Dr Craig Roberts, University of Liverpool | talks | www
Dr Russell A. Hill, University of Durham | talks | www
Dr Karen McComb, University of Sussex | talks | www


Date and Time:

9 December 2008 at 6:00 pm

Duration:


1 hour 30 minutes

Venue:


London Zoo's Meeting Rooms
Regent's Park (Outer Circle)
London
NW1 4RY
0207 449 6227
http://www.zsl.org/science/scientific-meetings
Show map



Organised by:


The Zoological Society of London
See other talks organised by The Zoological Society of London...

Tickets:

Admission if free and everyone is welcome!

Available from:

There will be a 3-course dinner with the speakers following this Scientific Meeting. For further information or to book dinner places, please contact joy.hayward@zsl.org or call 020 7449 6227.

Additional Information:

If you would like to be added to our e-mailing list for future meetings, please contact joy.hayward@zsl.org
Register to tell a friend about this lecture.
Comments
If you would like to comment about this lecture, please register here.