Monitoring of Wildlife: from individual behaviours to global distributions - ZSL Scientific Meeting
Learn how technology aids the observation and monitoring of wildlife in new ways and in difficult and remote habitats that previously made population assessments extremely difficult.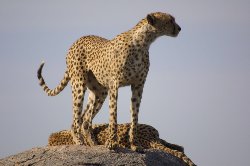 CHEETAH image © Sarah Durant, ZSL.
Environmental change is likely to have an ever-increasing influence on the ecology and survival of animals, yet many of the species which are of greatest conservation concern are wide-ranging and live in remote areas and are, therefore, extremely difficult to observe.
Information on animal movements, species numbers and wider distributions is critical for our understanding of species responses to environmental threats and the remote monitoring of animals is a growing sector of conservation science.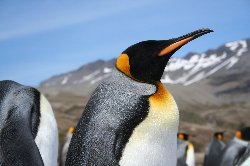 PENGUIN image © Tom Hart
In the course of this meeting, we will introduce the audience to a range of approaches that biologists are using to solve the many logistical and technical problems associated with wildlife monitoring and present exciting new information which provides insight into wildlife populations and improves our chances of understanding and mitigating the impacts of the increasing future threats they face.
TOPICS:
Review of remote monitoring;
Tagging, using id tags and archival tags – marine vertebrates;
Monitoring using cameras – from pattern recognition to camera traps; and
Global tracking of animals – global movements of individuals and global databases.
Organised by Chris Carbone, Tom Hart, Ben Collen and Marcus Rowcliffe, Institute of Zoology, ZSL.
Speaker(s):

Professor Martin Wikelski, Max Planck Institute for Ornithology, Germany | talks | www
Dr Iain Staniland, Seal and Penguin Biologist, British Antarctic Survey | talks | www
Dr Sarah Durant, Research Fellow, Institute of Zoology, ZSL | talks | www
Dr Roland Kays, Curator of Mammals, New York State Museum, USA | talks | www


Date and Time:

11 November 2008 at 6:00 pm

Duration:


1 hour 30 minutes

Venue:


ZSL London Zoo's Meeting Rooms
Regent's Park (Outer Circle)
London
NW1 4RY
0207 449 6227
http://www.zsl.org/science/scientific-meetings
Show map



Organised by:


The Zoological Society of London
See other talks organised by The Zoological Society of London...

Tickets:

Admission if free and everyone is welcome!

Available from:

There will be a 3-course dinner with the speakers following this Scientific Meeting. For further information or to book dinner places, please contact joy.hayward@zsl.org or call 020 7449 6227.

Additional Information:

If you would like to be added to our e-mailing list for future meetings, please contact joy.hayward@zsl.org
Register to tell a friend about this lecture.
Comments
If you would like to comment about this lecture, please register here.