Extinction risk in common species - a ZSL Scientific Meeting
Steep declines in the population of common species tend to have more severe consequences on the ecosystem in which they live than would a decline in the population of a less abundant species. These talks will address this issue and may include examples such as Passenger pigeon, Saiga antelope and vultures.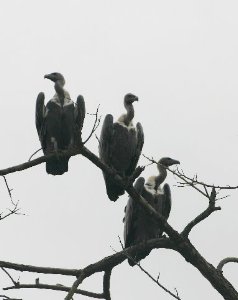 Conservation attention and activities tend to focus on rare species - those with low population numbers or restricted distributions. However, there is a growing list of examples of species threatened with extinction that in the recent past were considered to be common.
Major declines in such species potentially have much greater consequences than declines in rare species, because common species proportionately contribute much more to the functioning of the ecosystems in which they are (or were) numerically dominant.
Speakers will provide an overview of the causes and consequences of such declines, followed by case studies of once-common species that are now a major cause of conservation concern.
VULTURES image © Nick Lindsay
Organised by Professor Tim Blackburn, Head of Institute, Institute of Zoology, ZSL.
Register to tell a friend about this lecture.
Comments
If you would like to comment about this lecture, please register here.