"Intelligence and the Living Cell"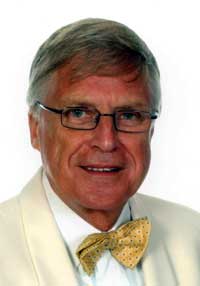 Illustrated presentation on adaptive behaviour and decision-making by living cells.
Current accounts agree that intelligence is the province of multi-cellular organisms, and is resides at the synapses of the brain. Today we will see some videos that support a revolutionary view, namely, that the propensity to make far-reaching decisions resides within each living cell. This
presentation introduces the idea that the brain has a much more limited role than we imagine, and that microorganisms are capable of remarkable problem-solving abilities. It also suggests that much cerebral function is probably intra- (rather than inter-) neuronal.
Brian J Ford has long believed that our studies of mechanisms that lie deep within the cell are a symptom of the reductionism of our current era. He promotes the view of the cell as an organism, looking at how it behaves, rather than at what goes on inside. His first book on microbiology was
published in 1970 and has been followed by papers in journals from Nature to New Scientist, together a number of other books that have been published internationally. His research has also been the subject of a number of recent lectures he has given in several countries.
Speaker(s):

Date and Time:

30 October 2008 at 7:00 pm

Duration:


1 hour

Venue:


Rothay House
Mayfield Road
Eastrea
PE7 2AY
01733 350 888
http://www.brianjford.com

More at Rothay House...

Tickets:

£3.75

Available from:

Public are invited to attend.
Register to tell a friend about this lecture.
Comments
If you would like to comment about this lecture, please register here.