The School of Life Sunday Sermons: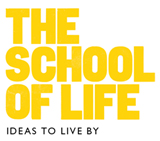 The sermons will offer a witty but also valuable alternative to the traditional religious sermon.
Wiseman is a passionate atheist whose research into the curious science of everyday life, including the psychology of deception, laughter, luck and the paranormal, has fascinated millions.
The School of Life has invited him to preach the good news about joking. We do not jest. Humour, it turns out, is unexpectedly hard to explain. Is it a temperament or a talent, innate or evolutionarily adaptive, essential or gloriously pointless? Aristotle's treatise on laughter, which might have settled the whole matter, was lost to history. So, for a long time, we remained baffled about why we like to make light of serious matters such as death, illness, and marriage. And why humour seems to be so culturally specific: apparently the French prefer their jokes surreal while the Americans opt for gags based on a sense of superiority.
From behind the pulpit, Richard will reveal the results of his research into the world's funniest joke, explain why humour is so essential to our survival, and speculate about why (with the exception of a new fashion in Christian stand-up) religion seems to have so little time for humour.
Speaker(s):

Date and Time:

17 May 2009 at 10:30 am

Duration:


TBC

Venue:


Conway Hall
25 Red Lion Square
London
WC1R 4RL

http://www.conwayhall.org.uk
Show map



Organised by:


The School of Life
See other talks organised by The School of Life...

Tickets:

£10

Available from:

www.theschooloflife.com or 020 7833 1010

Additional Information:

The School of Life is a new cultural institution offering intelligent and playful ways of interpreting the world in which we live.
Register to tell a friend about this lecture.
Comments
If you would like to comment about this lecture, please register here.